DISCLAIMER: THIS IRC CHANNEL—WHERE PLAYERS OF BALDUR'S GATE: THE SWORD COAST CHRONICLES CHAT—IS NOT OFFICIALLY SUPPORTED BY THE STAFF OF BGTSCC! IF YOU FIND ISSUE WITH THE BEHAVIOR OF THIS IRC CHANNEL, IT IS RECOMMENDED YOU CONTACT THE ADMINS OF THE CHANNEL ITSELF, AND IF NECESSARY, CC: THE DM STAFF OF BGTSCC. THANK YOU.
DISCLAIMER: THE CONVERSATION MAY DEVOLVE AND JUMP FROM FR SETTING ALL THE WAY TO EATING EXOTIC ANIMALS. PLEASE EXERCISE CAUTION ON THE IRC CHANNEL NOW THAT IT IS MORE ACTIVE!
The BGTSCC IRC Channel is set up! So now you can enjoy the community of BGTSCC live from work, on your phone, anywhere and around the clock!
The simplest way to get connected on a computer is using the webclient
:
http://webchat.quakenet.org/
1) Type your nickname
2) Type #bgtscc
3) Auth*
4) Enjoy!
But the really nice way is to get a client on your PC or your Phone. Preferably both!
You can download mIRC free from here:
http://www.mirc.com/
1a) The directions for installation are here:
http://www.mirc.com/install.html
1b) Follow the installation instructions, but on after you've set up your nickname, go to the section called "Servers" and select QuakeNet (any QuakeNet will do) as your server
2) The channel in question will of course be #bgtscc
You can also get a free irc client for at least Android phones (I use AndroIrc)
.
It's really simple, just select QuakeNet as a server, type a nickname and join the channel.
*Authing; when you join the channel, please type /msg Q hello (email) (email) to let Q know who you are and to register your nickname with the QuakeNet server. You'll get a confirmation email and a login you will use every time you connect to QuakeNet. Just type the authorization message you get as an email every time you log in or..
*Use
Perform.
More info at:
http://www.ircbeginner.com/
---
TUTORIAL FOR SETTING UP AN IRC CLIENT (IN THIS CASE, ICECHAT 9)
1. Download IceChat 9 from the following link:
http://www.icechat.net/site/downloads/d ... category=3
2. Install it.
3. Start it up.
4. Click the add button under the server list.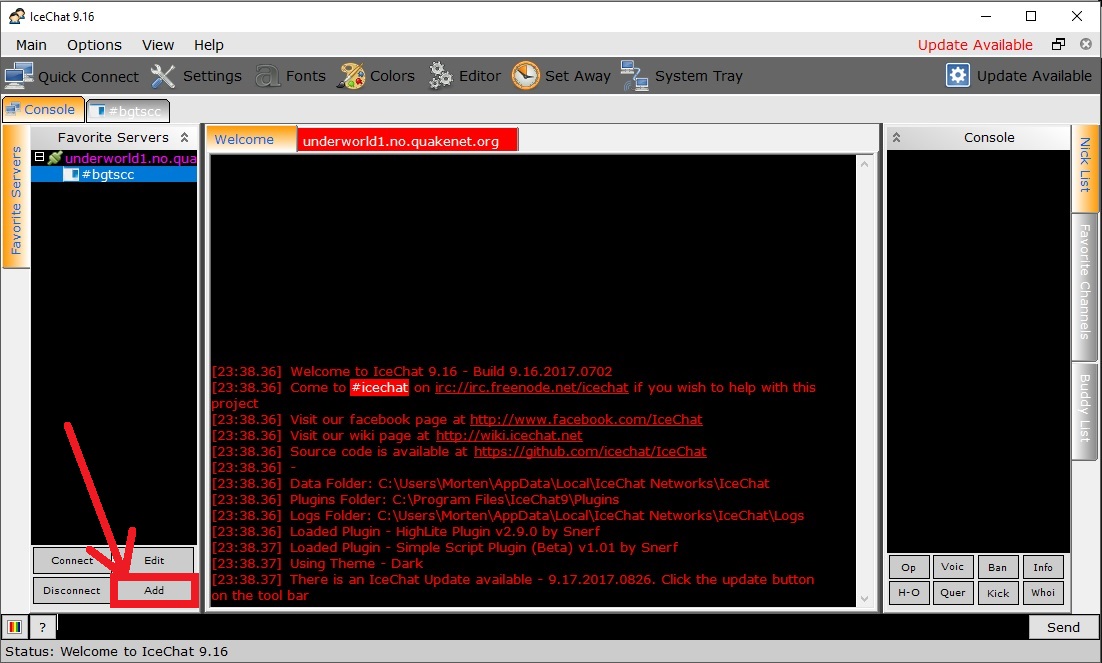 5. Type in the necessary information. Closest server and its URL can be found here:
https://www.quakenet.org/servers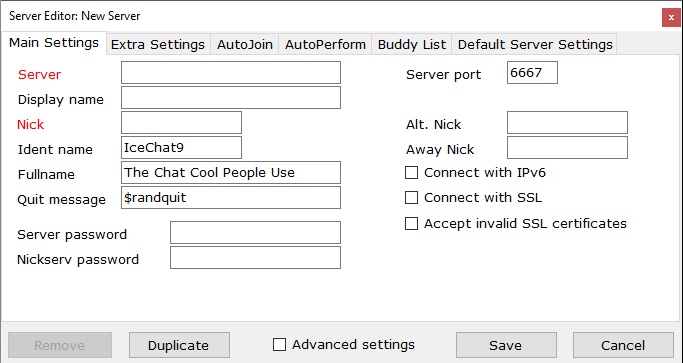 Here is an example of how it looks to me: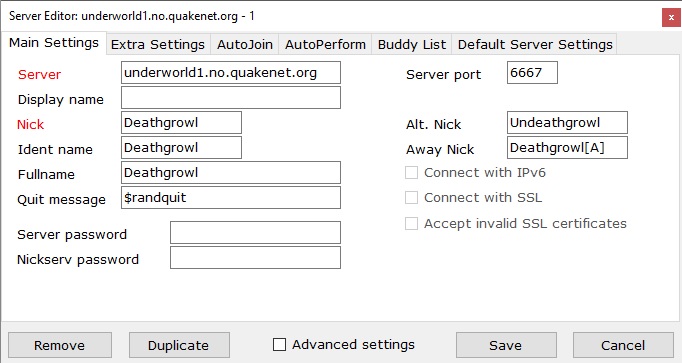 Display name can be added to give the server a more recognisable name.
6. Go to the autojoin tab, and add the channel by typing in #bgtscc in the input field, then click the add button.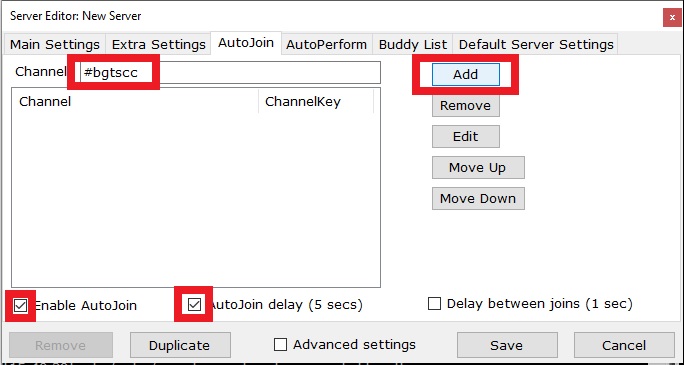 Make sure to also Enable Autojoin.
Autojoin delay is optional, but recommended if you also will authenticate when logging in. More on that in next step.
7.
OPTIONAL.
Go to the Autoperform tab. If you have authenticated, as stated above, you will have a password in your stated email inbox. You can add this to automatic login every time you join the server by putting it in autoperform. Like this: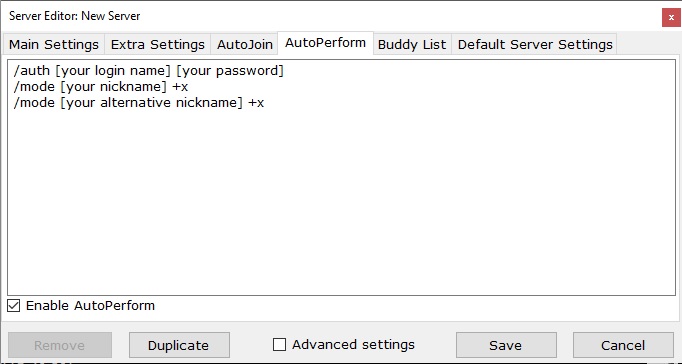 The /mode [nick] +x is again optional, but this hides your hostname, setting it to [your login name].users.quakenet.org. This is recommended. And this is the reason you'd want to delay autojoin by 5 seconds, in order to hide the host before joining the channel.
Authenticating is done like this (quoting from above)
8. Click save.
9. Join your newly added server by either doubleclicking on it or selecting it and clicking the connect button under the server list.