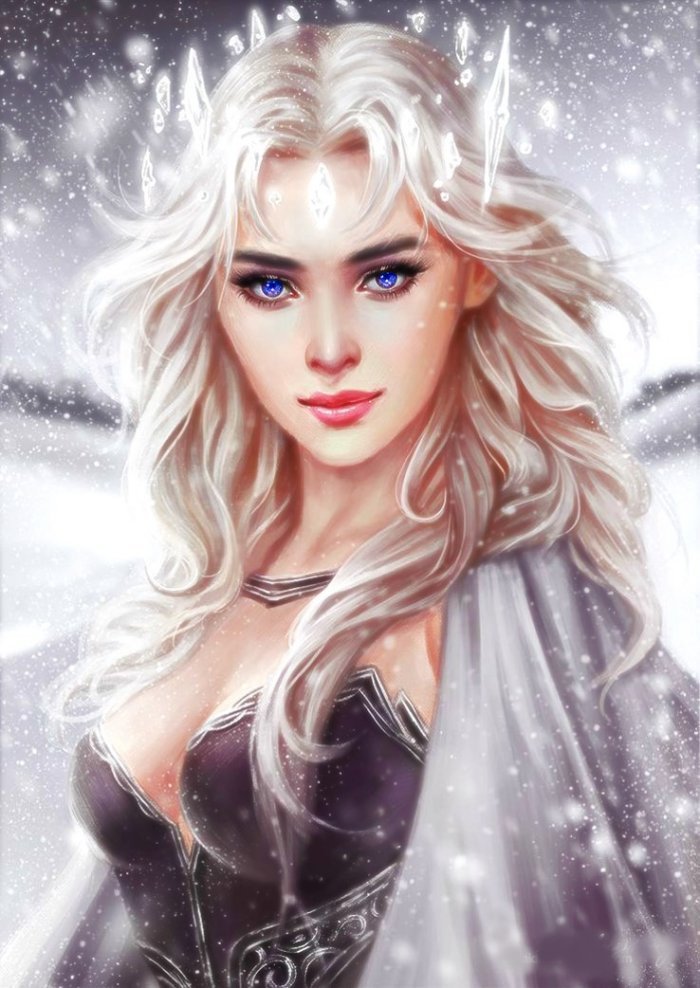 Height:
159 cm
Weight:
54 kg
Hair color:
Silver-White
Hair type:
Freya usually wears her feathery soft falling hair wild and free. I seems like it has its own life, once touched it always finds back into its form and reaches her shoulder blades. It has a gloss like fine silver yarn without making her look old. Sometimes she also wears it tied together and it's well cared.
Eye color:
Royal Blue (usually)
Eye type:
Slanted (Eladrin heritage)

An almost ridiculously small figure crosses your path. She doesn't seem very bulky, her strength is not visibly apparent. Only those who know her well or have seen her in action, may know better. Her slender yet female body moves with grace.

This woman is an exeptional beauty, her face is heart-shaped and looks timelessly youthful. Depending on the light its ivory white also has a blueish glimmer. Her skin is flawless and seems soft as silk, which might tell of an old heritage. Her lips are full and rosy, with slightly higher corners of her mouth. THis makes them look like an everlasting faint but friendly grin.
Another uncommon thing are her slanted eyes. They have an unwordly strong royal blue, also a rare sight. Once in place, once absent minded they look into the world, but with an experience as if she'd be older than she looks. They're framed with thiick dark lashes.
Sometimes her small, pointed ears poke through her hair.
The amazing scent she is naturally surrounded by, might vary. In warmer days, it's flowery-powdery. It reminds of wild roses, cherry blossoms and other flowers like a spring or summers day. In colder times it smells sweetly-flattering like winter-jasmin, fruit and honey, reminding of Midwinter. Both scents have something pleasant and sensual in common.
All in all, her Charisma is cheerful and gentle at the same time with a hint of waggishness. She clearly is a Northern type. Her voice speaks clear and light, and has a weird Northern accent, that has also a hint of the Moonshaes and the unapproachable East in it. When she sings, her voice sounds otherworldly high, and the accent is nowhere to be found. She is rare to anger, mostly relaxed and easy-going - though at times someting wild and passionate seems to slumber beneath the surface.