Olaf Garaeif
(The Slayer vows are taken)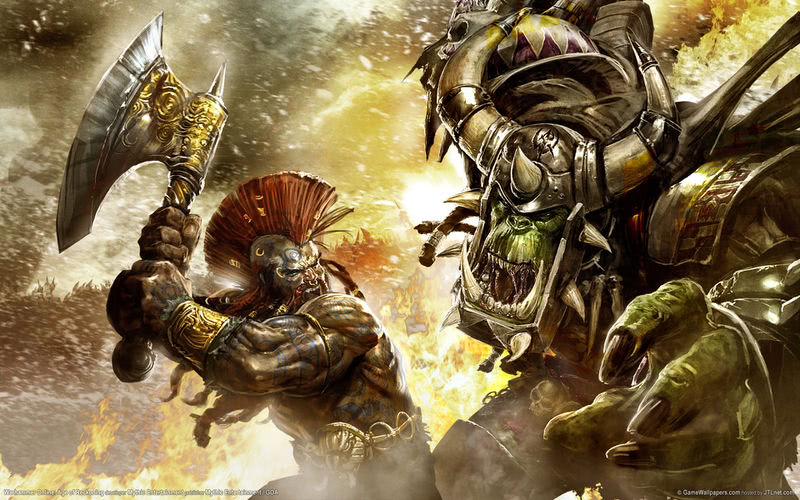 First Name
: Olaf
Last Name
: Garaeif
Appearance
:
Race
: Shield Dwarf
Age
: 150 years
Height
: 4ft 2in
Weight
: 190 pounds
Eyes
: Brown
Hair
:
Long Dark Brown Hair
Dyed orange and strip of hair up with pig grease, Mohawk style
Facial Hair Style
: Beard Dyed orange
Tattoos
ritualized tattooing with blue colors, depicting Orcs, Giants and dragons
Personality Profile:
General Health
: In good health, trains regularly
Deity:
clangeddin silverbeard
Initial Alignment:
Neutral Good
Profession:
Trader, Explorer
Fighter
Base Class & Proposed Development:
Fighter
Habits/Hobbies:
Finding unique historical items, Visit new lands and learn the lore behind them
Languages:
Common, Dwarven, Elven
Weapon of Choice
: Axes
Background:
Olaf Garaef is a gold dwarf, of the Stonebar clan, younger cousin of Revenark Stonehold. As many other dwarves of their clan, after the loss of their home land at the island of Elben Aator, he found himself alone, in the lands of the Sword Coast, 5 years ago. The questions of how, when and where are a mystery to him. Now, alone with no gear and no clan he tries to make his bearings in this new land. As he asks around he hears about a newly founded dwarven city Kraak Helzak. Fate brings it this way, so that it is in this new dwarven city, he finds members of his clan in the same position as him and most importantly his relative Revenark who helps him adapt to this new land.
UPDATE:
Olaf has been spending most of his time alone recently. Away from his family, friends and clan. What transpired a couple of weeks ago, failing to protect two of his kin which lead to their deaths, continues to haunt him. The physicals marks are evident on his body and face. He lost vision on his right eye. But that was not all. What was eating his soul away, was the shame he felt for failing to protect his kin. A shame he brought not only to himself but his clan as well.
At first he tried to overcome this by praying to his god. That didnt work and the next step was Dwarven Ale. Lots of it...He tried to drown his sorrow but that only had momentary results and more troubles. He was involved in brawls with others and was daily found by guards passed out. All that till the guards informed his close friend Matilda. At first she smacked Olaf around, the way she only knows and called him many names. When she heard his story though, she felt sorry for him. Knowing him to well, she could tell that this would be his end, since Olaf would never be able to overcome the shame he felt. She knew there was only one way, he would feel useful again... Only one way for him to have a purpose in his life... That is why she whispered in his ear that it was time, time for the Slayer Vows to be taken...
Goals:
- Help the Stonebar clan prosper in the new city of Kraak Helzak
- Find any lost kin
- Learn more about Elben Aator
Possible Plot-Hook Ideas and Misc Facts:
-