Freya Evans - The last Unicorn?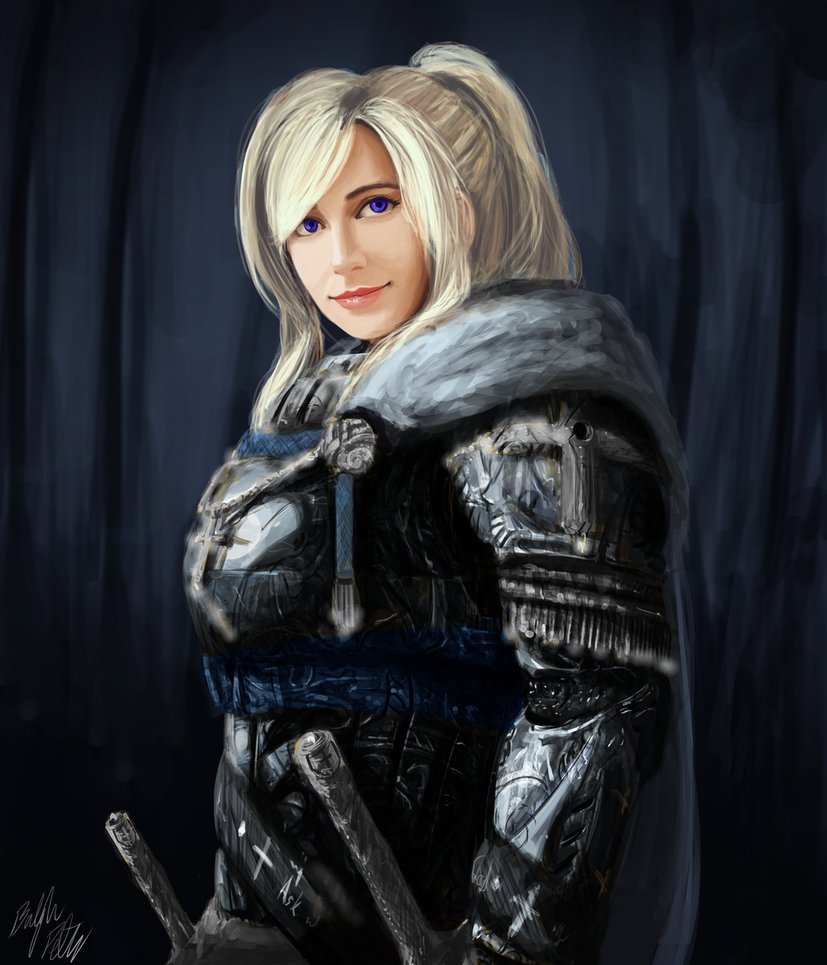 Appearance:
Freya has a moderate height of 1m74 for human women. Her body is in good shape and athletic. Clearly like someone who can defend herself if it has to be.
The quite pretty face has a slender soft form and is light. Even for her obviously young age her skin is flawless and seems soft as silk, which might tell of an old heritage. Another uncommon thing might be in her bright eyes. They have a clear lavender blue with a touch of violet, also rare among humans. She mostly wears her tailbone-long hair as a practical pony tail. It has a light blonde with a silver glow in it, tied with an ivory unicorn-slide.
All in all her charisma is cheerful and gentle at the same time though she clearly is a northern type. That is to hear in her northern accent, direct but friendly in her way. So she seems rare to rage, more relaxed, easy-going and in unison with the world around her most of the time.
Her clothes seem to be dependent on the situation. But if possible she will always choose pure white or silver or a light jade green. If she should wear robes, their are white as well, decorated with silver unicorn-symbols. Even if she has to wear an armour, it is polished in
shiny silver, contrasted with a proper green or white.
Finally the divine calling she might have once heard is revealed by a holy symbol of silver. It shows the head of a female unicorn with a long mane in front of a crescent moon.
Race:
Human (known)
Age:
21
Height:
1m74
Weight:
64 kg
Eyes:
Lavender blue
Hair:
Silverblonde
Hair Style:
Pony Tail
Skin:
Silky, light nothern type
General Health:
Freya does not look like a man, or barbarian woman, but it seems she keeps herself well toned with some female curves.
Deity:
Lurue
Initial Alignment:
chaotic good
Profession:
Wandering healer and hope-giver
Base Class & Proposed Development
: Cleric/favored soul
Habits/Hobbies:
Playing Games or Pranks is just a part of that her habits and fovors. Sometimes one can see her gathering flowers and herbs for healing. She also enjoys baking and making sweets or buys them. She also seems to have a weakness for things with honey or mint or both.
Languages:
Iluskan, common.
Relationships:
It could be easy to win her favor, but if that really works? One would have to try and see...
Background:
Freya was born in Silverymoon, the gem of the north that was named after her godess. Her parents, both humans met here. Born as Esther Larsson, her mother is a former bard who worshiped Lurue. After some unlucky ended relationships and even a husband that disappeared she wandered and ended up in her own home, the North. Here a travelling priest of Ilmater arrived. They got to know eachother, they loved eachother. Though that man was a little naive and soft in heart, maybe he was what her troubled heart needed to heal.
Kieran Evans was his name and he accepted her with all of her weird habits and love to perform still. He even married her though her past was moved. Together they had six children, of which Freya is the youngest. They had a happy past free of suffering and full of hope for their future.
But who knows the rough North will know it better. One day, her oldest brother Thomas was brought home, gravely wounded and his life hung on a silken string. As part of a group of scouts he was victim of an ambush. His friends carried him to the hospital, young freya at the age of only 11 winters ran after them. They waited for their father to arrive. In the waiting time, she tried to hold his wounds close and prayed to every non-evil deity that occured to her. All of a sudden when even Mielikkis foster child Lurue was begged for help, the bleeding stoped. A nurse said to her father later:
"Priest Evans, i believe your youngest has just saved your oldest's life. But don't ask me how."
Their the girl sat, full of her brothers blood and her own tears and didn't understand the world anymore. Her family, they did research and asked other priests for their opinion and thoughts. Among them was one who understood. A half-elven priest of Lurue named Faen, she became one of Freyas teachers in the coming years. They believed a young acolythe was found and so her young life ran it's course to what it is now. She later was accepted as a young-priest, got her holy symbol. But still she believes, there must be more. She felt different then the others and asked herself if she is alone with it. She felt a call while her prayers, the godess wanted her to do what many priests do, to wander. One day she arrived at the gates of Baldur's Gate...."
Weapon of Choice:
Spear - favored weapon
Goals:
Freyas goals might be simple and to some they might seem pointless:
She wanders the world to find those in need of hope and healing. She wants to helpothers to fullfill their dreams and wishes, and may they ever be so small. Nothing is impossible as she interprets her godesses dogma! Seeking wrong to right she also fights evil, but not always with violence. It is more a last solution if words aren't heard. In other words, she tries to solve problems in a reasonable way first, but also doesn't run from a fight if necessary.
In this lands she will try to find contact with the churches of Lurues allied deities to work together with them.
Possible Plot-Hook Ideas and Misc Facts:
As few as Freya seems to know of the world yet, she knows all about the legends of Lurue and the silver herd. So one can see her watching the sky, searching for something. We can hear her, telling weird stories about fairies, unicorns and speaking animals and talking beasts.
One of those tales her mother told her, seems to be about the so called unicorn-flower. If it really exists or will be found, time will tell.