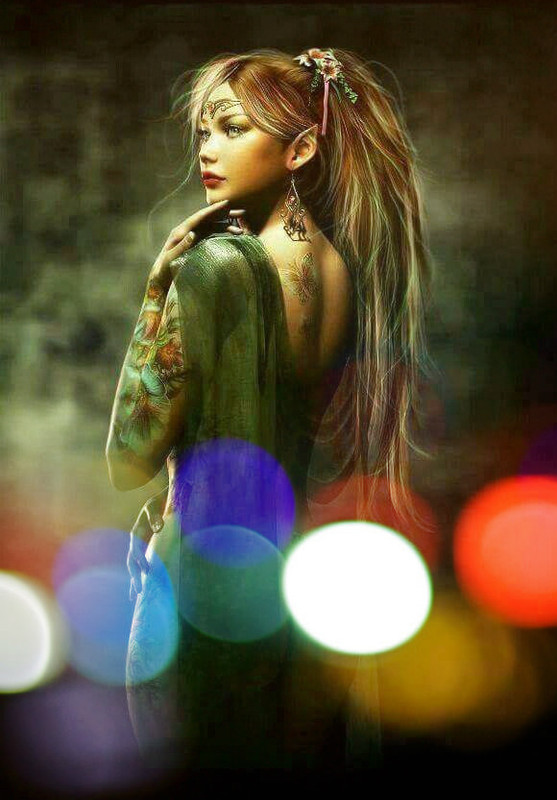 Full name : Moire Rouge (elven name unknown)
Race : Sun Elf
Gender : female
Age : 135
Height : Not very tall
Weight : Lithe
Hair : Golden blond
Skin : Bronze / sun-kissed, with a hue of gold in the sun, and as soft as silk.
Her left arm is covered with one huge tattoo that resembles an elegant artwork of flowers and leaves. Should one ever come to watch the rest of her body, they'd learn the tattoo on her arm continues into a beautiful artwork that masterfully flowed over lower back, her hips and thighs all the way down to her calves. Like as if the artist had dipped real leaves, butterflies and flowers from some paradise island into ink and glue before placing them onto the client's skin.
Eyes : glimmering emerald
Classes : bard + *classified*
Sexual preference : *classified*
Relationships : *classified*
Occupation : merchant, negotiator
Deity : Waukeen
Favorit weapon : swords, rapiers
Personality Profile: A bit haughty, and she appears most of the time business-like and minded. Even when having conversations on a personal level with her, may give the interlocutor the feeling she sees even such talks as little business things that need to be dealt with, albeit a bit playful. She may consult others for problems, but once settling into a judgement/opinion, she keeps strong to those. She loves to underline and show off her skill, yet without exaggerating. In short, she has the traits of a Sun Elf, albeit moderate.
General health : Good
Initial Alignment: *classified*
Profession: merchant-trader-negotiator
Habits/Hobbies: *classified*
Languages: elven, common, gnome, dwarf, Thoras, celestial + *classified*
Theme song : Background :
Moire was an orphan and was raised in Marsember by 'dubious' people. She has no idea where she was born or who her parents were. But she noticed she had a talent for speech and was taken off the street by a Waukeean priestess who had been observing Moire's talent on the streets and markets, talking people into or herself out of situations etc.
*the rest is still classified*
Goals :
Moire came to the region to become a more independent and self-employed business woman. She realizes however that such a thing would not be possible without the right support, associates and alliances. But she has time, as her elven heritage and longevity promises.
- Much is not known about her background, but it may strike as kinda odd that a Sun Elf like her spent a large part of her life ('some' decades) in a city like Marsember. She displays the stereotypically elitist ways of Sun Elves, albeit not in an extreme fashion. Furthermore she seems more devouted to Waukeen than what would be a typical choice for an elf, being the Seldarine.
- Upon her arrival in the region, Moire almost instantly wished to become a citizen of Doron Amar, and seemingly wants to increase the town's prosperity with her skills and talents.
- Moire wants to become wealthy and renowned, and makes no bones about that…
*the rest is still classified*
Possible Plot-Hook Ideas and Misc Facts:
- Her prices are sharp, what's the catch? Is there any? Or is there a hidden goal?
- Her past not typical for an elf might be curious.
*the rest is classified*
Story :
viewtopic.php?f=20&t=60559&p=763973#p763973
Auction/company :
viewtopic.php?f=55&t=60520
Daily stuff :
viewtopic.php?f=20&t=62000