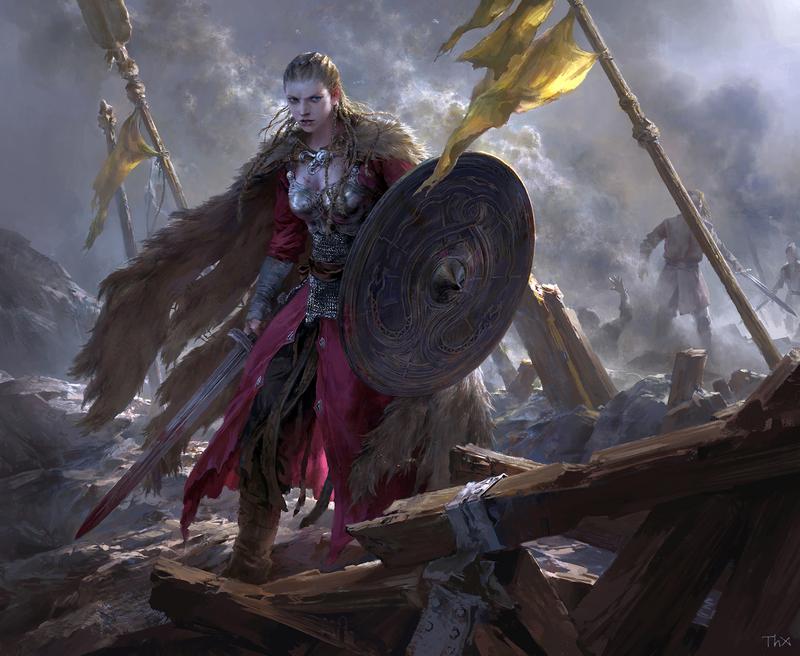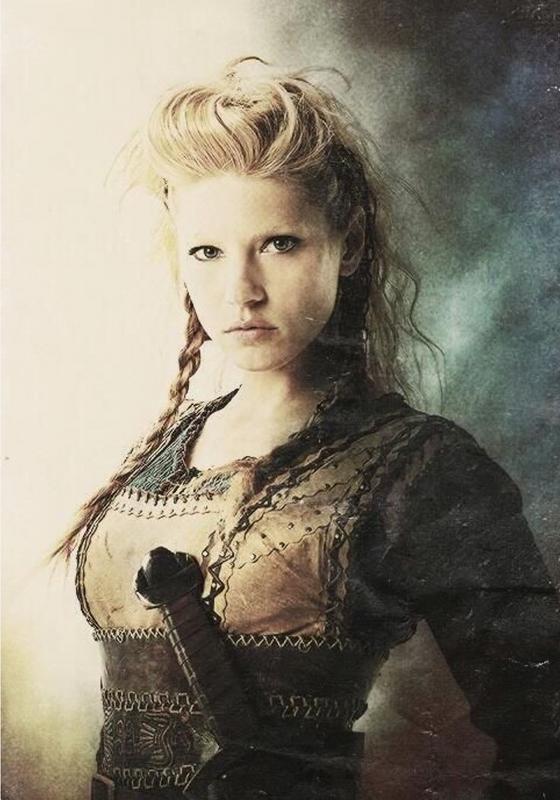 Race :
Human
Gender :
Female
Age :
24
Deity :
Tempos (Tempus)
Class :
braided badass barbarian
Hair :
Long blonde, braided & twisted
Eyes :
Refreshing glacial blue
Height :
5.97 ft
Body :
This 'Shieldmaiden' looks like a woman who does daily full body workouts with a focus on power, agility and strength. She's rather lean and features a muscle tone that reminds of slim forged steel rather than being bulky.
General appearance :
In combat she bursts forward and can strike with surprising fierceness, hewing mighty blows that are delivered with sharp and frightening precision. She carries a rather heavy looking 'bloc' (shield) that is nearly tall enough to protect her entire body, and though she has not the quickness of a cat with this, she isn't exactly slow either. She's often dressed in a heavy armor and has a strange animalskin cut into a cloak shape that is tossed over her shoulders. All in all she has a very nordic appearance and seems to take pride in that.
Personality :
She seems capable yet can be as brusque as a 'lady berserker' can be, swinging a blade and cleaving a skull just as well as any male counterparts of her ilk. She can be so blunt that it borders on tactlessness, but without exhibiting gruf, surly behaviour that would prevent her from winning any friends at all.
Quick background :
Álfhildr hails from the colder north, more particular Ruahthym. She grew up with her clan south of the city Ruathym on the island of Ruahthym, a land that is frozen and wintry for eight months of the year, and where waves and storms pummel the coastline quite often and without remorse. She was born in a family with no less than eight brothers and she was the youngest child. Her family was just like her clan devouted to Tempus and thus she considers herself a war-born. In her short life she lived a rather heroic, aggressive past, mainly in the company of manly warriors where body culture was a main concern. She participated in social and military routines on daily basis, creating respect and self-respect. Heroic deeds from time to time were required to be remembered, and thus she set out with the men on their longships for longer journeys, raids and local fights.
Moonshae, and the Sword Mountains were few of the places she visited several times, and where she and her clan members fought orcs and local population, taking whatever resources they needed. If not dying heroically themselves, the warriors needed to see to a fair number of heroic burials caused by their own hand, but without pushing towards total destruction and always giving their opponents the time to regain strength and time to rebuild.
Honor comes but also can vanish as fast as it had come. One day her father was accused of something he didn't do, and rather than having this thing unjustifiedly placed upon his character, he dressed himself in his bronze armor, the one their clan members wore when grieving, sought out the most terrible (and unbeatable) foe he could find, and died in battling it. Her father being an elder and thus one of the leaders, was succeeded by his son Bjorn, Álfhildr's eldest brother. In order to restore the good name of the family, Bjorn proposed a marriage between two influential families of their clan, being theirs and the family who had accused Bjorn's (and thus Álfhildr's) father.
Álfhildr was pushed forward to marry one of the younger males in said family, which was totally not to her liking. She even literally fought her eldest brother over it, their duel ending with quite the amount of bloodshed as others joined in, taking sides. In the end Álfhildr left her clan, not wishing to be part of it any longer as she felt betrayed, and together with her some men left. All of her brothers remained behind, but she still has contact with the youngest, Hafnar.
Theme song :
RP hooks :
-One day she seeks to avenge those who, according to her, have disgraced her father. Therefore she seeks two things, one being a professional melee training. Not that her swordplay is bad, but currently leans more towards hewing and butchering...
-Having left everything behind, she also seeks source of income. Whatever job may suit with her identity and personality...