.
HURGON WYRMSTONE
Mystic Warrior of the Deep Mountain
Appearance:
A taller-than-average Shield Dwarf, of early adulthood for the Stout Folk, though harder to distinguish by non-Dwarven people, and considering the established balding dome. Others of Dwarven knowledge would likely know he is of the generation of the Thunder Blessed. Like most Shield Dwarves, his countenance has an almost permanent gruff expression, though his expressions lite up at moments, showing a face of curiosity, determination, insight and even foresight, into and about events visible or non-visible, around him.

Hurgon is almost always in light and extra-mobile armor, which itself is decorated with talismans, symbols, marks of a shamanistic type. His belt has many a small pouch and curiosity attached to it, hung with ease yet care and purpose. His armor has an etched symbol of a faceted gem within an outline of a looming mountain.

Befitting his race, Hurgon shows a strong build, muscular though stout, and above average constitution. He is not the surest foot, but his boldness keeps him in good step with the more nimble.
Race:
Shield Dwarf
Age:
Early Fifties
Height
4' 10"
Weight:
150 lbs.
Eyes:
dark green
Hair:
Thick, brown at the sides, a balding plate
Facial Hair Style:
A thick, mat stubble lick a hairy carpet upon his lower face.
Personality Profile:

General Health:
Above average constitution, appearing physically strong, also above average.
Deity:
Keeper of Secrets under the Mountain(Dumathoin)
Initial Alignment:
Helpful yet willful and bold.
Profession:
Spirit Guide to Shield Dwarves, Ambassador to Kraak Helzak, Head Council to Mining and Divine Councils under King Battlehammer
Base Class & Proposed Development:
Spirit Shaman
Habits/Hobbies:
- Speaking to himself, or, addressing an disembodied entity
- Cheering
- Fondness for ale and moments of celebration surrounding being a Stout

Languages:
Dwarvish, Dethek, Common and more...
Weapon of Choice:
A curved blade or a battleaxe
Background (as it is known):
Hurgon is of the age of the
Thunder Blessing
, having recently entered adulthood, and taken on to adventuring, which led him to the Call of the King, Battlehammer of Kraak Helzak, where he has settled as an ambassador.
Of the Wyrmstone Clan, Hurgon is like many of that kin, guided by the spirit Voice of the Deep Mountain, the legendary
Wyrmstone
, which is known among the Shield Dwarves of western Faerun to empower the Wyrmstones to better defend the Stout life, one of living just under the surface or in the mountains. Both clergy and spirit guide, these Shield Dwarves are destined to guide other Stouts in exploration below the Surface, act as Spirit Guides to all Shield Dwarves, and later in life, become Guardians of the Dead and Speakers for Funeral Rights.
Hurgon speaks little of his past, and perhaps that is because he is young by Dwarven standards and has only so much experience to actually speak of. However, he has expressed a past in which his clan, the Wyrmstones, have been subject to terror raids by the Dark Elf, and this little-spoken past seems to be a key to his determination to destroy any Drow that he sets eyes upon. His natural abilities and wisdom seem to thinly keep him from growing into an uncontrollable rage, when he sees the Dark Elf or even hears about them. [more to come...]
Since arrival to the Sword Coast, Hurgon has taken upon himself the role of ambassador to the King and Kraak Helzak citizens. Being himself a Thunder Blessed, he notes his role is to welcome in other wayward Dwarves with adventure spirit to gain strength and wealth though allegiance to King Battlehammer and the other various clans of Kraak Helzak. In addition, Hurgon has taken the task of finding avenues for trade and outside-of-the-Fortress means for gaining wealth or openness to other "civilizations" and cities on the Sword Coast.
Goals:
- Leadership role in the Councils of Kraak Helzak.
- Guide other Thunder Blessed into allegiance with King Battlehammer and other clans within the Fortress of the Holy Anvil
- Be a watchful guardian between the Surface and the Middledark, where the Upperdark maintains a secure gateway and defense between what forces lie below and above.
- Surround himself with willful and capable Stouts that shall through their various skills, guide Kraak Helzak into a New Age of Glory and Wealth! Har! *cheers*

Possible Plot-Hook Ideas and Misc Facts:
- Hurgon has moved to expand the Kraak Helzak Councils, and now sits as Head Councilman to the arms of Divinity and Mining.
- Hurgon despises the Dark Elf and the Duergar, along with many other Underdark beings that are seen as abominations and either willful evil, or born evil. Like the traditional Shield Dwarf of Lore, centuries of experience have proved time and time and time again that most creatures born to the Underdark bring nothing but foul, evil manifestations to lands above...and thus, Hurgon has personally vowed to never tolerate such beings, and always sees any moral motives as trickery or forms of mind-based curses designed to subvert a Stout into eventual slavery or death. NO TOLERANCE!
- Reestablish the relations between Kraak Helzak and other cities and civilizations, as he learns about past ties, and finds the resources from within Kraak Helzak to offer new lines.

OOC:
- Hurong is NOT A FRIEND of Drow or Duergar, trolls or Orcs, having extreme distrust for Half-Orcs, and a healthy distrust for Humans he does not know. So...when Hurgon acts INTENSELY, just realize that is the CHARACTER, not the Player (in principle).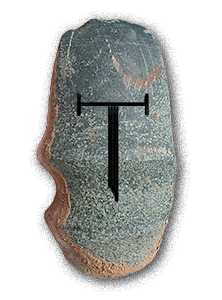 *** a work in progress ***