---
R I V A
---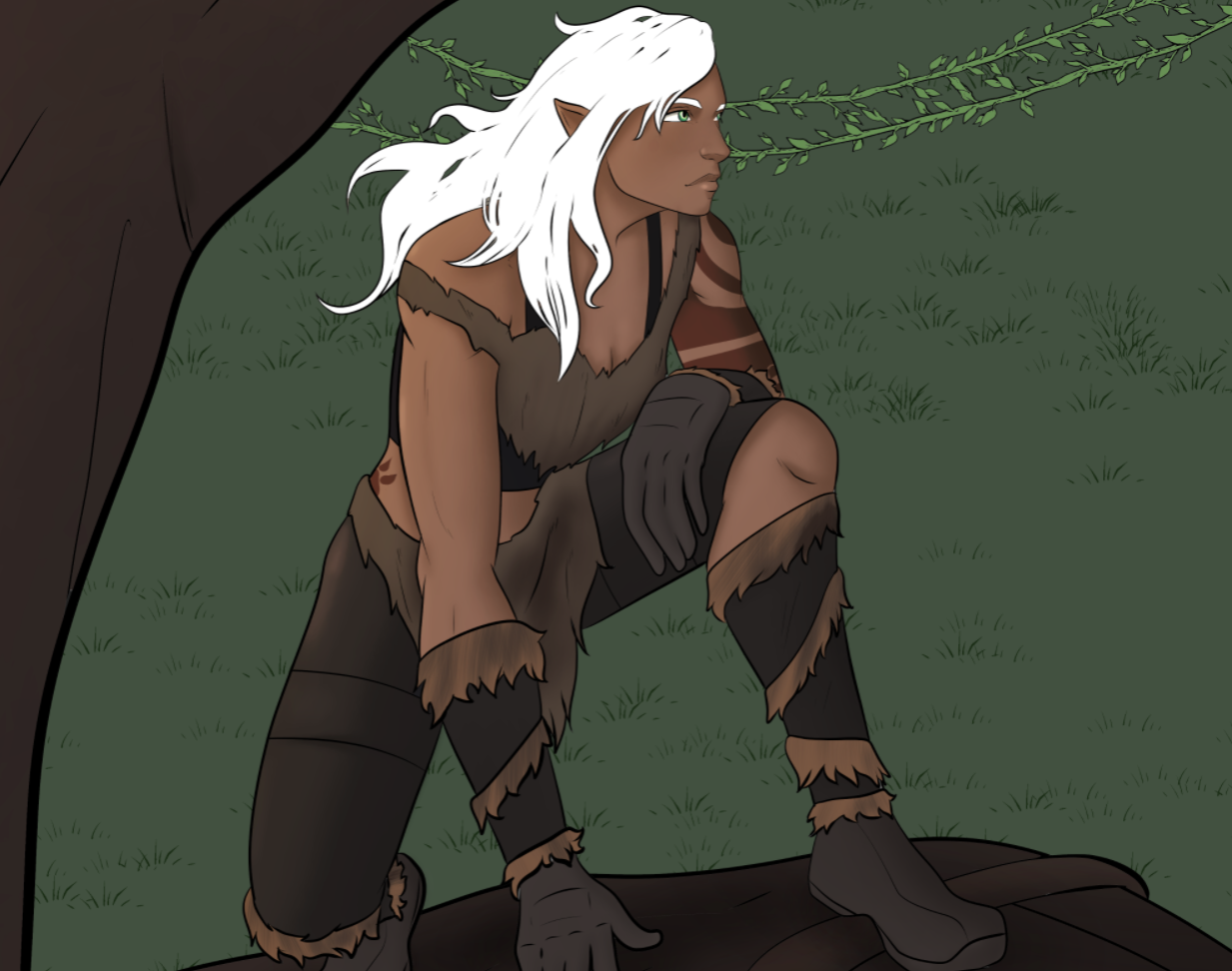 Art by LazyTrain.
---
Basic Information
---
Name:
Riva Rootclaw
Age:
Adult - Middle-Aged
Gender:
Female
Race:
Wild Elf
Occupation:
Hunter | Druid
Affiliation:
Freelance
Social Class:
Outlander
Build packed tightly with muscle, Riva nevertheless carries herself with the steady and measured gait of a predator. She is Sy-tel-quessir, a wild elf, a quiet confidence held in her rigid posture. The subtle crow's feet that rim her eyes, and the silvery sheen of once-dark hair, suggest that both years and hardship have whittled away at her eternal youth. A mix of scarring and black-inked tattoos marr her flesh when visible, the ritual markings most prominent on her biceps, shoulders and back. Her leathers are well kept, her gear travel-worn but usable.
Reserved, patient, and watchful. Very little seems to get under this wild elf's skin, and she appears to respect the fighting prowess of others, even when she counts them among her enemies. Though an outsider to the civilized world's way of doing things, Riva seems to keep an open mind to cultural differences, and tends to speak with others politely, often mimicking honorifics and mannerisms in an effort to adapt to varying social situations.
She admires action, courage, and the conviction to do one's duty, even if she does not agree with the path taken. Family is incredibly important to her. While friendly, it can be assumed the wild elf gives her true trust sparingly, as is the case with most of her kind. Her loyalty, when given, is unflinching.
It is no secret that this woman has led a nomadic lifestyle. Born in the wilds of the Chondalwood, nearest Chessenta, she had never spent much time in one place, exploring whatever reaches of the jungle or woodlands that her small tribe roamed. This was the existence she knew for decades, centuries, rarely making contact with human civilization, except to occasionally trade with villages at the outskirts.
But as is the way of life, nothing lasts.
Without her tribe, Riva has had closer and closer brushes with civilization, a mix of pressing circumstances and unfulfilled oaths leading her down the Coast to Baldur's Gate.
---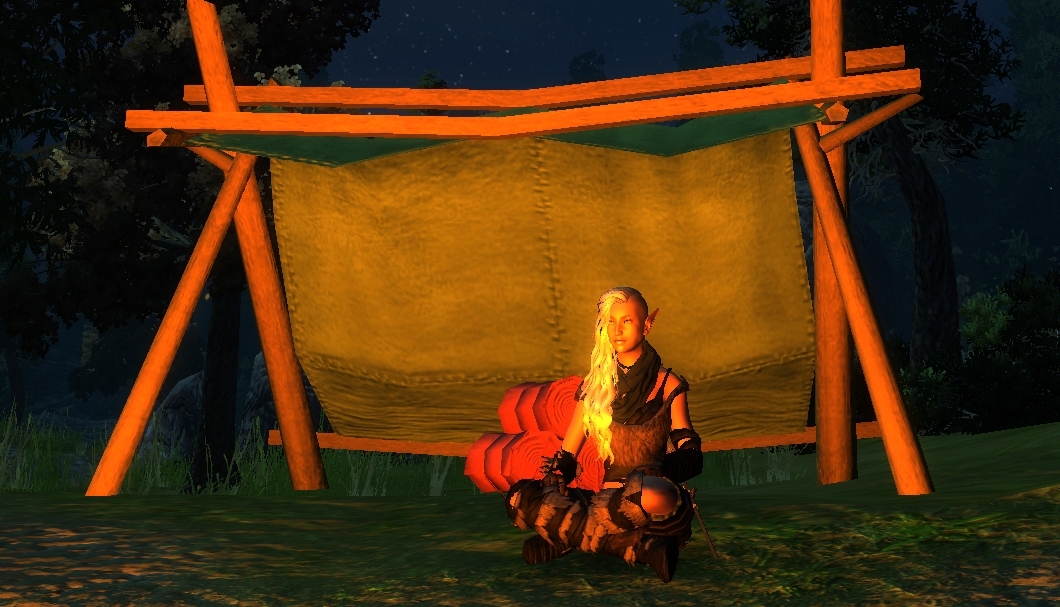 ---
Beram:
Seen often enough in the architect's company, it can be deduced that Riva acts as some kind of hired guard for the human. Her irreverence, however, also makes it clear enough that keeping him from harm is the
only
part of their arrangement: she's no servant.
Cyran:
Riva's nephew, the son of her brother; though he is a half-elf, there is no question that the wild elf sees him as family, for better or for worse.
Hunter:
With a keen ear and eye, Riva is used to working odd jobs centered around tracking. While she characterizes herself as a hunter, whether for game or monster, she's also capable of acting as a guard or guide when needed. The wild elf is also often willing to trade spare pelts and meats in exchange for other supplies.
Nomad:
When Riva still lived among her tribe, she took part in a heavily nomadic lifestyle, traveling often at the outskirts of civilization. While she spent the first few formative decades of her life in the wilds of the Chondalwood, nearest Chessenta, the many more decades following led her to the north and west. Her tribe, like most wild elves, rarely interacted with others beyond the occasional trade of supplies, but there is a chance she may have already met a resident of the Gate on her travels.
Shadow Druids:
Though generally private about it, Riva is currently hunting down a specific band of Shadow Druids she's had hostile interactions with in the past; anything related to such an order might catch her attention, as she's fairly certain at least one fanatic of Silvanus has made their way near Baldur's Gate.