Rumors & Events of Baldur's Gate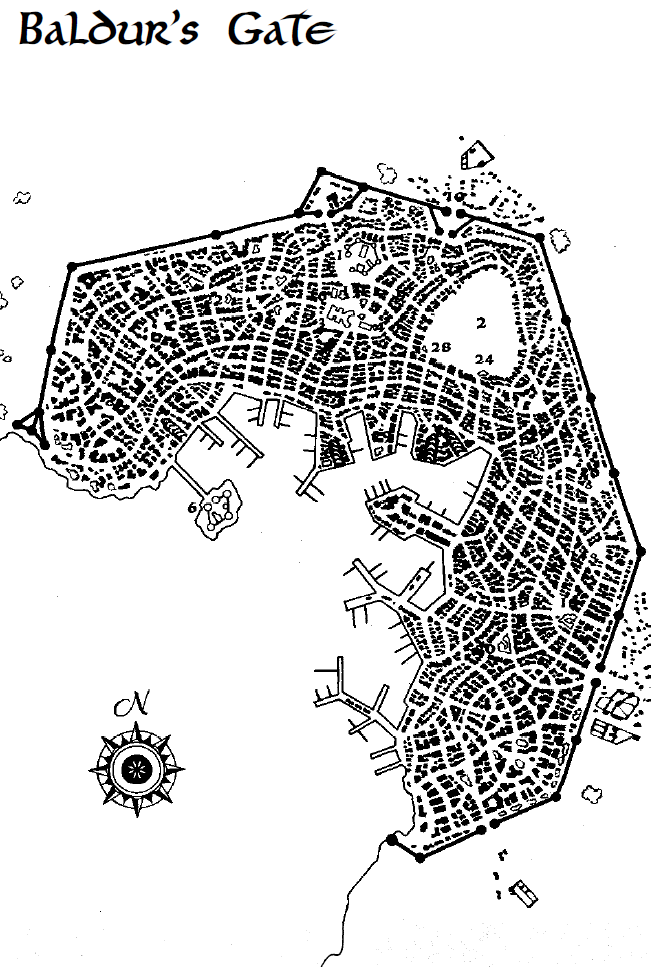 Local Lore
[in 1368 DR...so work towards the future!]:
Like Waterdeep and far-off Suzail, the Gate is tolerant and quietly well-policed. As a result, it is one of the most popular ports-of-call in the seafaring Realms, and home to many eccentrics, adventurers, and freewheeling entrepreneurs. The city is named for the legendary seafaring explorer Balduran, who long ago sailed past Evermeet in search of the rich, fabled isles of Anchorome (pronounced "Ang-kor-OH-may"). Balduran returned with tales of strange, vast lands across the seas. He also brought back much wealth, and scattered it about his sparsely-settled home harbor, commanding that some of it be spent on a wall to protect the harbor from orc and barbarian raids (still an annual problem in the area, in those, long ago days). Then he set sail again for the wondrous lands he had found. Balduran never returned. Some say he sails still, finding new lands in the endless reaches of the far sea, or even that he sailed off the world and fares now among the stars! Others whisper that he met with misfortune and perished in the deeps, while still others believe he lived to a ripe old age in his new-found home. Whatever Balduran's true fate, his money was spent on a splendid city wall.

Within its protection, building went on at a great pace, soon growing out past the wall. The wall was built by several farmers, who put it around their own holdings, excluding the actual harbor from its protection. This allowed them to tax all carts coming up from the docks to the protection of the walled city. The colleagues of Balduran, sea-captains to whom the harbor was home (an ideal place for beaching and repairing ships, without local fees or crowding), angrily insisted that the gate by which southern trade and the harbor traffic entered the city was "Baldur's Gate," and refused to pay for entering by it.

The strife ended in the overthrow of the enriched farmers and the seizure of the city (which came to be called Baldur's Gate) by the sea-captains. The four oldest captains, their days at sea drawing to a close, turned over their ships to younger sailors, who in turn supported their installation as rulers of the fledgling city. The four called themselves Dukes as a joke, but the titles proved useful when dealing with other rulers, and were later glorified by the appellation "grand."

Retired grand dukes live in honor, supported by the city and welcome at all feasts and temple functions (unless dismissed in disgrace and banished).
Realmshelp Link to Baldur's Gate