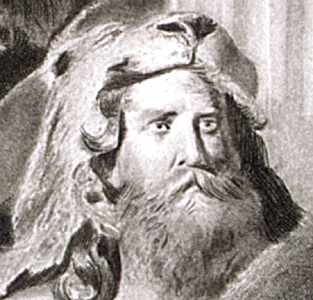 "The inferior man argues about his rights, while the superior man imposes duties on himself."
First Name:
Anthem
Last Name:
Arnemeiger  
Appearance:
Race:
Human (Neverwinter/Aasimar ancestry)
Age:
30
Height
5'10"
Weight:
200lb, muscular
Eyes:
Grey
Hair:
Brown, Tonsure
Facial Hair Style:
Full Beard
Personality Profile:
General Health:
Divine
Deity:
Torm
Initial Alignment:
Lawful Good
Profession:
Shipwright, Paladin
Base Class & Proposed Development:
Paladin 30
Habits:
Prayer, Fasting, Physical Training
Hobbies:
Artisan craft of the Shipwright, listening to music, art & sculptures, law
Languages:
Common
Weapon of Choice:
Greatsword
Base Abilities:
Strength 14 (+2)
Dexterity 10 (+0)
Constitution 10 (+0)
Intelligence 10 (+0)
Wisdom 14 (+2)
Charisma 25 (+7)
Background:
Born in Neverwinter to a shipwright. He lived a simple life in a rough part of the docks, in faith and worship of good deities, he labored alongside his father. There came a day when there was an accident at work; his father was greviously wounded. As Anthem clung to the dying patriarch, he inadvertently healed the man by the laying on of his hands.
The inquisition of the Temple of Torm that followed the miracle recognized that Anthem was born to the calling of the paladin. After several meetings with his parents, Anthem was removed from his family and from the work of a laborer to answer a higher calling.
Anthem was relocated to Tantras, where he served as a page and squire under the knight Sir Jacques d'Astier de la Vigerie - a fierce Tormtar and veteran crusader of many battles in Anauroch. Under the tutelage of Sir Jacques in all things from combat to ettiquite to faith, Anthem grew to emulate his hero as best he may. When he had come unto his own knighthood, was comissioned to the Western Heartlands.
Anthem roams across the realm as a questing knight in search of high adventure.
Goals:
-To walk uprightly in the calling of a Paladin all the days of his life, fulfilling all his sacred duty and obedience to the doctrine and faith of Torm, the True Deity.
-Honor the obligations of the Order of the Radiant Heart.
-To maintain his holy vows of celibacy (abstaining from all fornication) and of poverty (accumulating no lands or properties, and hoarding no wealth or possessions beyond what is needful for continuing in crusade)
-the exposure and eradication of all evildoers; especially the persecution of evil cults, religions and political bodies
[/color]