.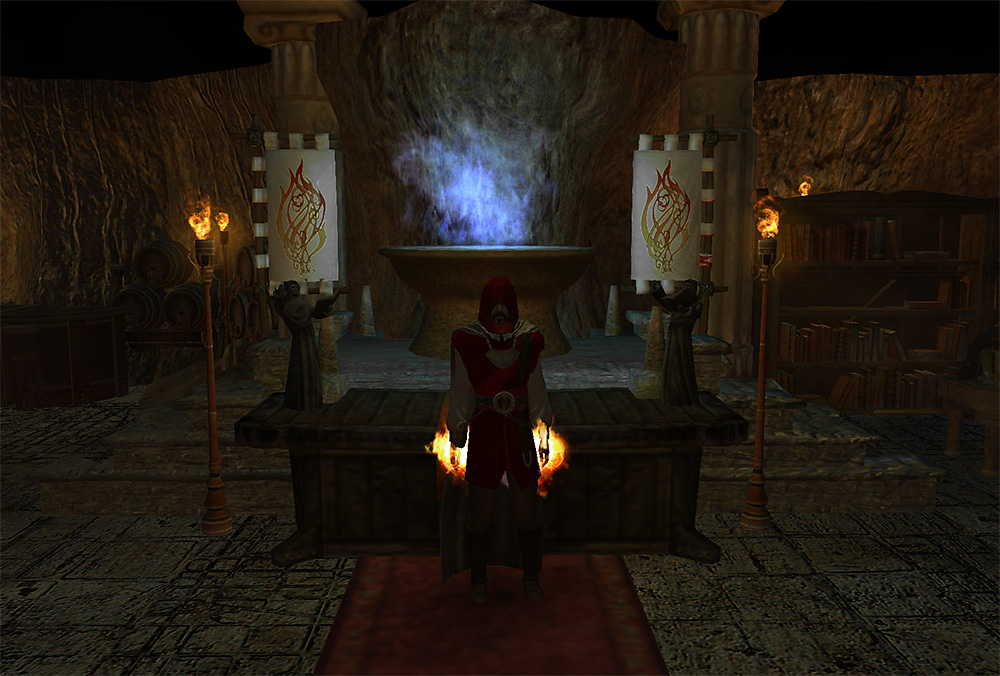 A hooded man in crimson robes adorned with intricate embroidery stood facing the ever-burning cauldron, head bent as in honoring The Flame, as the Devoted Flame of the Tendrils returned from chambers, headed back to his ever present post within The Temple. A pause, in the silence of the room, with only the ever-present crackle and flare of smouldering coals within the great purifying pit, to disturb the air that hovered between the two men.
The hooded figure raised up his head slowly and only slightly, not in a way that he would only now be aware of the presence of the returning priest, but slowly as to
let the priest know
, the hooded man was not unaware. The Tendril priest's eyes burned into the back of the hooded man, seeking illumination into the identity of one that would face The Flame without any appearance of respectful fear.
"
Let fire and purity bless you, my son....
" spoke The Tendril priest, clearing the air, attempting to deduce the purpose of this new arrival within the temple.
The hooded man, reacting to the spoken words, turned with a powerful grace, smooth like a bending flame around dry fuel, consuming the form in its caress. As the hooded man finally faced the The Tendril priest, hands moved to open showing palms, where in each, new and separate flames flickered to life, blazing crimson and casting powerful shadows around the man.
"
And the Eternal Flame shall purify us all.
" now answers the hooded man with hand aflame, a response made in harmony to that which was first spoken by the Tendril priest—a call and response, between the Knowing.
The Tendril priest, if having earlier showed any hesitation from seeing this hooded man within the Temple, was now standing at respectful attention. A realization had taken hold of his thoughts, and was now a guide to the situation. He speaks again to the hooded man:
"Preceptor Zau...your arrival was foretold...."