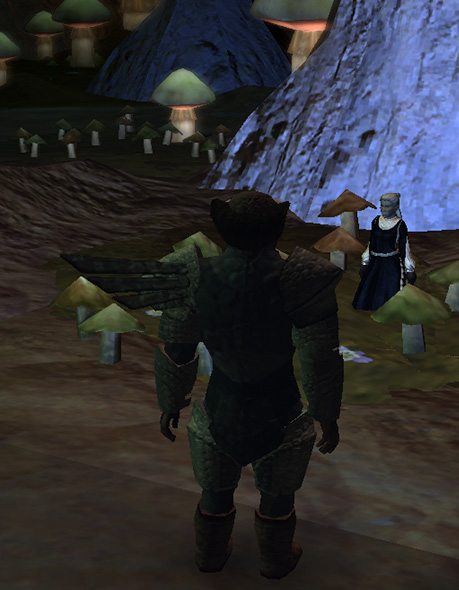 A representative of the Kingdom of Kraak Helzak returns to the Svirfneblin Kingdom once more, after many months since
the known attempt
at fostering a trade treaty...perhaps more...between the two Kingdoms that touch midway between the Surface and the Deeper Dark realms.
Something—or a lack of something...—must have brought this lone Stout deep underground once more, this perhaps known ambassador of the Fortress of the Holy Anvil.
And again...with little difficulty, the one who had eagerly before introduced himself to the Queen and her ministers as Hurgon of clan Wyrmstone, one ambassador of the great Dwarven Kingdom, found the Queen idle in her mushroom garden.
With as proper actions as could be mustered by one from another culture, Hurgon of clan Wyrmstone takes care and caution to address the Queen so:
"She who Guides the Deep Gnome kingdom of Rockrun...again, I Hurgon of clan Wyrmstone, ambassador to the Kingdom of Kraak Helzak, come to you after many moments in time have passed, that have passed since We of Kraak Helzak came below to here, to find ye in yer home and speak with ye...though it was not ye but yer only magistrate...to offer what be a treaty in trade, and an step to an alliance between our two Kingdoms...so that those of true spirit with the Stone, may find similar vein and bond, against all that is Evil that may come to our Gates and destroy our cultures.

Yet after so many months from our expedition here, and after offering you many goods from our Kingdom in which can bring wealth and stability to our Kingdoms...ye offer no word, no response, no action, to our humble initiation.

Tis neither a yay, nor a nay, ye give. Do ye preserve silence...and fer what be ye reason, o Queen? Fer the Dwarves of the Kingdom of Kraak Helzak have sat eager, but shall ye be disagreeing with a treaty of trade, then lay that directly before me, thus that truth be truth.

If ye be of mind to speak not with I, only one walks as ambassador in spirit, if ye need to speak with our King and liege, then that as well was our last offer, that of a welcoming into our Kingdom, so that ye may see our sincerity.

Again...I ask ye to break yer silence, and speak upon I, a humble ear to the banner of King Battlehammer.

As of now, I withdraw...but leave you to contemplate my words, as they come directly from the monarch, and his representatives, of the Kingdom of Kraak Helzak."
The lone Dwarf, Hurgon of clan Wyrmstone, Voice to the Deep Mountain, does as he says, and retreats from the Queen's Garden. And as he leaves Rockrun, perhaps for the last time, he does walk slow and considerate, as if giving time to be seen...as he takes back to the tunnels that tilt upward toward the greater Surface realm.