After the recent protests and actions of the heavy handed fist. Along with poor business from Baldur's Gate's trading company. The knight Lady Erza Aldren and her friends have decided to start a new crusade within the city its self. Their goal is to remove the heavy handed elemental of the fist while ensuring the people find justice. To start of her efforts Lady Erza Aldren gave a speech in the docks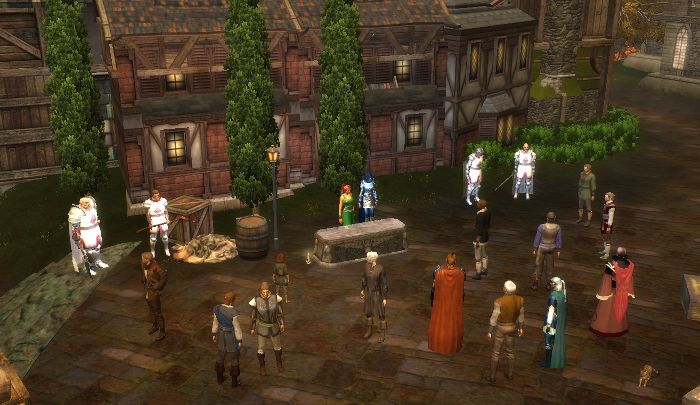 Town Criers are paid to announce the speech and people quickly gather along with several members of the fist
"Good people of Baldurs Gate! Many of you know me and my deeds! For those of you who don't i am Lady Erza Aldren!. A knight of the Radiant Heart and a High priestess of Sune. In years past i have fought for this city against the evils of the coast. But a few days ago i witnessed something appalling, The good people of the docks where to suffer without the means to care for them self and their family due to the actions of others!."
"To respond to this injustice a zealous fist officer almost killed his fellow man leaving a son fatherless just over there
she points behind the gathering
. By the grace of Sune he was saved and the wisdom of the fist had the officer removed."
"Now i am not here to reconnect stories of the past!, I am here to tell you this injustice will not stand. That no man no matter how noble his blood nor position in this city will stand above justice!. For all are equal in the eyes of Tyr!"
Sailors cheer at the words as the Sunite offers a moment before continuing
"I am here to tell you that no matter how big or small, Rich or poor you are all equal and are worth of love and respect!. I heard you say you had no voice on the docks, well that is no longer the case!. If you cannot speak i will speak for you!, If you are ignored, Harrassed or harmed I will ensure you find justice!."
There is further cheering and clapping from the dock workers
"This city, Its people and our gods will no longer tolerate such brutality! No longer will any be cheated!. To this goal i will speak up for all those who can't no matter who stands in my way. If you need food, clothing or work The Halls of Inner light will help you find it, If you need justice the Radiant Heart will stand up for you. This ends now! even if i have handle every injustice personally!"
The dock workers chant "We need out pay" while others cheer and clap. The sunite points to flaming crates before continuing.
""Now let us show those who had acted with brutality that we are better then them! That we can gain justice without harming another and help restore these docks, Your home and legacy"
A sailor shouts out "Oi mates! Let's put out these fires she is right!" and a group of those gathered follow suit restoring order to the docks. The Sunite kisses her fingers and blows out towards the crowed ending the speech with one final comment
"May Sune bless you all! Those in need may approach for healing and food"
After the Sunite and her body Guard Alcarin make rounds through the crowed offering healing, clothes and gold for food, With a warm smile. Those who have greater problems are encouraged to come find the Sunite after so they can get the proper aid.