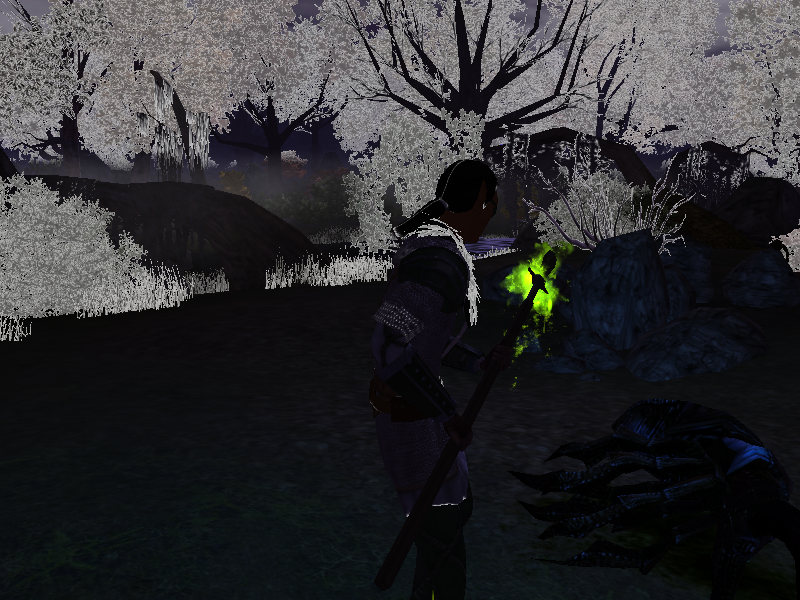 Out of Character
Alright, so I logged in and went to FAI to sell of whatever I had previously managed to acquire on my character. Most of those items went straight to the dwarven merchants, but there were two that I decided to put up for sale at the in game consingment store. A Mithral Rapier with Massive Criticals 4 for 4,999 gp and a Longsword with 5% chance to inflinct one round blindness at DC of 14 for 14,999 gp. Both weapons will serve anyone with the access to Greater Magic Weapon spell, thus I am hopeful towards finding those items in some epic trade only list.
But as I was about to leave FAI, I did notice that there was a loot bag at the feet of Mudd, or whatever his name. I couldn't help my curiosity and I did spend a good long time trying to click it, which eventually worked with the right camera angle. Thus my character was holding onto a tower shield, perhaps not exactly one of the most epic items around but it had a property that made it convenient for loot grinding.
Thus I was holding a shield I could not exactly claim to have belonged for myself, and thus I started sending tells left and right if someone was missing a tower shield. I put up a line on the scrying tool, started a forum thread, and basically sent tells to half the server. I got a lot of smiling faces but no one seemed to have lost a shield that they owed.
After a while I grew bored of standing outside of the FAI gates and I decided to take my character to the cloakwood to slay some lizardmen. I know that today the mobs there are Tasloi, but in my heart it will always be lizardmen.
The fight towards the Cloakwood Mine did reveal an unfortunate trait of my current character build. My character has rogue saves. Thus he actually got stunned fairly often by the Tasloi Shamans. Now, Fighter hitpoints mean that I do not have to worry too much about taking hits for a round or two, but I was shocked to see how often my character got stunned. And inside the mines every single spider actually managed to poison my poor elven character.
On the third floor I swung the rope, and then noticed that there was a golden Batiri Chieftain on the other side. As I am not one to ignore a larger bag of loot and experience, I had my character swung back to the otherside, and it sprawled into a fight with we other Batiri at the side. I actually turned on the Parry mode and had great laugh until the Batiri Chieftain managed to both wound and poison my elf, and after that the Parry mode just started to fail one attack after another. I was shocked to be wounded and poisoned, and thought that perhaps the Batiri Chieftain was carrying some epic loot which did not appear at the end of the fight. But still, it was a fun fight all things considered.
Over all, I did end up crawling out of the cloakwood mines with 3 suits of banded mail, 2 half-plates, 1 breast plate, 1 full-plate and an extra pair of chain mail. I suitable reward at the cost of about 7 potions of Lesser Restoration and Bull's Strength, which the merchant inside FAI was glad to indentify and purchase. The trip alone netted my character some 15k in gold pieces.
My character then headed towards the sea cave for some good old troll slaying, what else to do with an acid tipped spear? He tangled and came on top against a group of six trolls that included two boss monsters.
I had to log out after that.
In Character
The elven warrior <>Redacted</> had found his way at the Friendly Arm Inn where a dwarven merchant demanded an extortionist price to identify the magical wards bound within the many items claimed as loot during the past few days. Surely there would be someone willing to do the service cheaper, but our warrior required a restock of basic supplies and necessities. The coin exchanged hands, and the dwarf was willing to purchase most of the acquired items but <>Redacted</> reasoned that there might be hands willing to pay more for two of the weapons. One rapier and longsword with curious enchantments on each.
But <>Redacted</> was not a merchant himself, the mere thought of standing still and screaming about his goods felt alien. Thus he decided to turn towards services provided by the local proprietor of a consignment wagon. Many adventurers had talked with the fellow, and surely it would be a fast way to exchange the two unneeded weapons into more usable coin.
With all said and done, <>Redacted</> was ready to leave the relative safety of the Friendly Arm Inn, but a curious sight cought his eye. The proprietor of the consingment wagon, was standing upon a tower shield that he did not claim as his own. It took some effort but our elven warrior did manage to dislodge the shield from the mudd and then became a curious task of finding its owner. After all, it was strange to see a shield of such quality to be left rotting into the mudd.
But not a soul inside the walls were willing to claim it as theirs and when it was presented in their direction, and thus <>Redacted</> thought that it might be a idead to go stand near to rocks by the entrance. People came and went and not a single one wished to claim the tower shield. Although there was a man of some elven heritage that did seem to consider it at least, judging from the way he stopped and kept slowly moving onwards. A curious sight and perhaps he could have been the owner, or perhaps this half-elf was simply waiting to see whether the elven lineage brought forth kind or nasty words. <>Redacted</> did wonder for a moment how the sight of the muddy tower shield might have appeared with his otherwise silent nature.
Hours of the night waned and no one wished to claim the shield, and thus <>Redacted</> could not do much beyond leaving a note scribbled at the gates of the keep and return to the dangers of the wilderness. The Tasloi shamans were a nasty bunch to fight, their spells often left <>Redacted</> vulnerable to the blades of their other ilk and their trained battle beetles. But the elf with the spear lingered on longer and even the fierce beetles met their match.
The caves, or better described as abandoned mines proved another interesting challenge in the form of a host of spiders. The creatures were not much of a threat to a skilled spearman, but their mandibles did come with a poisonous bite that required considerably effort to heal and recover. Potions of Restoration and Healing Kits were spent by half a dozen, and the cursed goblins had used the same spider mandibles to trap their chests.
It brought a small smile to <>Redacted</> face to battle against their leader and return in kind every single scratch and fang mark left by those accursed mandibles. Not to mention that this victory came with its right of spoils, in the shape of a dozen suits of armor and another burden to carry.
The fortress of Candlekeep was the nearest civil settlement in <>Redacted</>'s eyes and it was there where he dragged the dozen suits of armor. With some luck a somewhat shady fellow at the entance became willing to purchase the burden off from <>Redacted</>'s shoulders. Perhaps he knew a friend of a friend that allowed him to sell these armors to the keep for a profit, but for now coin was coin and less of a burden to carry.
Restocking at the keep proved to be a challenge of its own kind. They sold many interesting things, but were lacking in Potions of Restoration. Perhaps their keep was free off poisonous spider mandibles as the locale did have its share of sea winds. Those important supplies had to be acquired elsewhere and thus <>Redacted</>'s decided to try and hitch a boat ride back to the city of Baldur's Gate... But there was a cave along the way, and a fair fight to be had with the trolls that called it their home.
Design Notes
If Candlekeep doesn't sell Potions of Lesser Restoration, it really should. I mean, they got potions of Heal, so the lack of restoration feels odd.

Rogue saves suck!