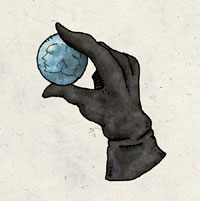 Basic Information
Name: Wulfrik von Dunkelwald
Aliases: Hound, Wulf, The Wolf, Wolfhound, Gargoyle
Gender: Male
Profession: Unknown, used to be Witch Hunter. Word is he has been seen aiding adventurers at the moment.
Faction: Hunters of Vengeance
Accent: Well articulated common. Educated vocabulary.
Physical Information
Height: 1m92
Weight: 85 Kilograms
Body build: Muscular, broad
Skin type: Rough
Hair style: Tail, dark brown.
Eyes: Stone-cold-blue.
Skin: Caucasian.
Body-markings: His torso is riddled in scars, back covered by scars of whippings.
Appearance
Wulfrik wears a black longcoat and wide brimmed hat. A pristine white shirt with high collar is worn underneath. The sheath strapped to his belt holds a hand and a half sword and crossbow hangs from his right hip. Various grenade-like objects are strapped to his bandolier, along with two fangs of Devils as token of first correction of wrongs upon the Sword-coast at the moment.
Handsome, strong features adorn his face. Sharp line of jaw and neatly trimmed beard. He carries himself with a calm confidence, but behind those eyes of his lingers a hidden anger and sadness that a person with solid people skills would easily notice.
Theme
When hunting
Relations
Laureate
Horned Beauty
Wispling
Thorn
Raivan
Aesa
Commander Di'Corvi
Deladra
Fenix
Kiran