At intervals a road-wise Dwarven Stonesinger can be found perched near or within a marketplace of towns and cities and way-points where other Stout Kin have taken permanent station. Never opposed to those brethren, for he easily speaks with them and performs what appears a regular information exchange, often in Dethek.
When he is present there, in such places as the Wide of Baldur's Gate, the interior courtyard of the Friendly Arm Inn or a walled pathway leading to the Belching Dragon in Naskel, the one giving name of Simsae of clan Orcslayer, sits or stands or leans comfortably against wall or chair, idly playing a one-handed drum, and at times, humming along with the complex and varied rhythms he can manage on such a simple musical device.
For many, the music made is interesting enough to lure their attention to this Stonesinger of above-average charisma. But for most, what bring them to address the Stout would be his blanket laid out before, or next, or slightly behind him...and the items that he seems to at once guard, and offer, for sale or trade.
With regularity, this Stout addresses any that come close with curiosity by this greeting:
"The treasures of the Telormar Gultor, ye see before thee. Taken back from the clutches of fierce giants, snakemen...snakewomen!!...and most assuredly by the recently lifeless hands of the Orc. Go ahead, go ahead...take a closer look, and tell me surely if ye have coin or trade to convince me-self to part with a thing."
---
What is currently laid out upon the blanket, and with help Simsae does give identification for what enchantments are manifest in each ware:
NEW ITEMS BELOW~ ---------------------------------------------
Forest Walkers
(boots)
AC Bonus: +2 (dodge)
Bonus Feat: Dodge
Enhancement Bonus: DEX +3
Shadow of Silent Moves (light armor 8/1)
AC Bonus +4 (Armor)
Skill Bonus: Hide +4
Skill Bonus: Move Silently +4
Sword Coast Legion Cleric's Girdle
Bonus Spell Slot: Cleric Level 2
Bonus Spell Slot: Cleric Level 3
Bonus Spell Slot: Cleric Level 4
Skill Bonus: Heal +5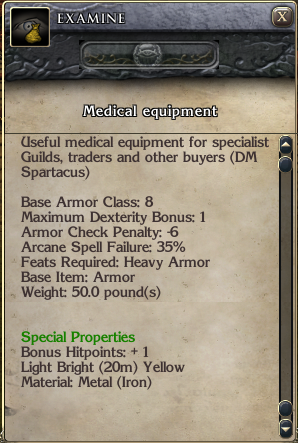 NEW ITEMS ABOVE~ ---------------------------------------------

The Copper Defeated Cloak
AC Bonus: +4 Deflection
Damage Immunity: 10% Cold
Spell Immunity: Mass Blindness/Deafness
Amator's Mirrored Shield
Heavy Shield
Armor Bonus vs. Undead +4 (Shield)
Damage Immunity: 5% Sonic
Only Useable by Chaotic
Spell Resistance: 28
Thigh of the Limited Bat
(kama)
EB +3
Massive Criticals: 5
Damage Bonus: Electrical 1
The Beautiful Blade
(katana)
EB +3
Charisma +3
Damage Immunity: Electrical 10%
Mithral
80% of Weight

Sorcerer's Ring
Ring
Bonus Hitpoint: +4
Bonus Spell Slot: Sorcerer Level 4
Strength +1

Ring of Sorcerer's Power
Ring
Bonus Spell Slot: Sorcerer Level 3 & Level 5
Charisma +2
Spell Resistance: 10
Bow of Silvanus
(short bow)
EB +2
Massive Criticals: 1d4
Mighty +4
Skill Bonus: Listen +3; Spot +3; Survival +4
Use: Barkskin (3) 2 uses/day
Scroll of Convert Essence
(scroll)
Base Item: Scroll
Weight: .1 pound
Special Properties: Use: Convert Essence Single Use
Scroll of Dragon Breath, Sleep
(scroll)
Base Item: Scroll
Weight: .1 pound
Special Properties: Use: Dragon Breath, Sleep Single Use

Greater Belt of Guiding Light
Improved Saving Throws: Death +2; Fear +2
Improved Saving Throws: Fortitude +1
Skill Bonus: Listen +4; Lore:Arcana +4; Search +4; Spot +4


Entrails of the Fair Creep
Heavy Shield
AC Bonus: +1 (Shield)
Enhancement Bonus: Constitution +4