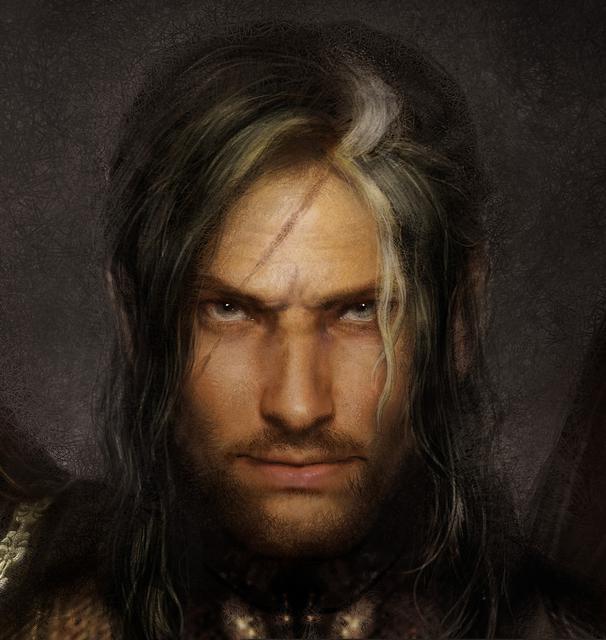 Name
: Bash (Bastien) Belfire Kessemer
Race
: Aasimar
Gender
: male
Age
: 32
Alignment
: chaotic neutral (good)
Deity
: Shaundakul
Profession
: devouted bodyguard & Pathmaker
Classes
: cleric, dragonslayer, fighter, divine champion
Place of birth
: Baldur's Gate, though he hasn't been home since he was ten. It is rumored he was presumed dead, drowned as a boy together with his parents near the shores of the distant peninsula named Zakhara.
General appearance :
Bash is a tall, strong man, likely splendidly muscled below his armor. He bears the mark of someone's sword across his sun-kissed face, though it looks more like an old burn scar rather than a cut. From the place where it starts on his head now grows silver hair rather than brown, leaving him with a permanent silver streak which time to time hangs down loose over one eye. His nose is curved like a hawk's beak, but looks as if it had been broken a couple of times over the years. His looks seem rather unique, especially with those at time intense, silver eyes of his. For a tall and armored man he walks with surprising swiftness, and although still not that old, he displays the attitude of a veteran. Like someone who already has faced and experienced several horrors, as well as survived those, but without expressing anything about the glamour of certain wars or heroic fights. To most Bash could be hard to read, so some of his reactions could perhaps strike with surprise. He may come across as a devoted man though, especially when he is observed in the presence of a certain lady whom he seems to serve.
Quick background :
Bash, full name Bastien, arrived at the Zakharian coast in a most unfortunate way. When he was ten, the ship he was on sank just off one of the many islands, and he was perhaps the only survivor. Bash was saved and brought to a more cultivated part of the land where he was adopted by nomads. He was not a slave, but he was trained as a servant and fighter in order to protect the caravan when moving through the high, romantic albeit harsh desert plateaus. It was also clear from day one that Bash wasn't just an ordinary human child, his endurance considered as remarkable.
One day their sheikh met up with another family, one of very high importance, and as Bash wandered about the mutual tent camp, that is when he saw her for the first time, training with a pair of curved blades. He was eighteen around that time, and the girl, several years younger than him, already showed a much greater talent in sword fighting than he ever would see. He learned that she was the as of yet unclaimed daughter of one of the wives of a powerful and rich man, a would-be princess in Bash's eyes. When she noticed him watching her swordplay, Bash was invited to join in, and after a few rounds (of which he lost most) they got to talk.
Bash was intrigued by her story, and also strongly opposed the way how her father treated her just because she was the child of one of his lesser important mistresses. She appeared however the eldest living child, and as of yet the man had no sons to claim his legacy should he ever come to pass. Bash believed she should one day lead her family and inherit their business, yet never expressed that to anyone but her during the few months their groups mingled.
When their paths seperated, it was for Bash not easy to let go, yet he obeyed his benefactors and returned back to the Zakharian coast. Down the way they were assaulted and robbed however, and Bash barely made it alive to the coast. Many of his tribe had been slain and feeling as if set 'free', Bash returned to the place where he met her. But they were gone, the sand had erased any trace and evidence of their meeting a couple of tendays earlier, as well as any tracks or leads of her tribe's next destination.
Months later Bash found himself operating as a guard on a ship that sailed around the coastline to deliver goods, and that is how he also started revering Istishia as well as Shaundakul.
Many years went by until one day they got caught up in a fight with pirates, one they couldn't possibly ever win if it hadn't been for another ship of privateers that had been in the area, paid to patrol those waters and secure the trade route. And it's then, almost ten years later that he saw her again amidst the chaos of flashing metal and smoke being blown adrift.
And she was just like he remembered her, even better with the blades as she cut down the pirates that attacked his crew members. She recognized him immediately, and days after the fight they sat together at some inn where she told him her story, of how she had turned from a desert "princess" into a dashing privateer. To Bash she would always be the first though, and he never hid his thoughts on what her future should have been. He still considered her a royal blood, and treated her publicly as such.
Ever since they have always traveled and worked together, and although she was much more skilled with the blade than he, he played her guard and made it look as if he was the biggest threat of them both. Reality however was different, and should they ever get in trouble, Bash was the one who took the first beating, distracted their foe, so she could cut them down even more easily… likely very much to their foe's surprise.
Somehow Bash had convinced her to one day, should her father come to pass, claim her father's legacy and dominion, but only do so once her and Bash had gathered enough wealth, resources and contacts to finance and support such operation. She has one sort of spy there. The woman who gave birth to her, Darya's mother, once or twice a year sends secret messages to her daughter. Bash and Darya had picked the Sword Coast as it was likely far enough away to continue their plot. But Baldur's Gate was also Bash's original home town…
Goals & rp-hooks :
-In the first place Bash seems to serve Darya and seems dedicated to her. They seem not romantically involved with one another. Nor ever seem to have. Bash guards her, protects her whenever she requires it, and beyond.
-He's all up for gathering resources and wealth, even if not all for himself, and is prepared to work hard for it.
-Bash has been checking to see if he can claim the old house of his parents in Baldur's Gate again after their death and when he went missing. It's not easy though since it's been twenty years ago since they were there for the last time.
-The longer Darya and he are in this region, the less likely it appears that Darya would ever return, and it's nagging at Bash.
Theme song :