A Fire Genasi is Standing beside a Makeshift Stall in the trade corner or Soubar
"Come one! Come ALL! Or just one... I Loren Bass have here a wondrous piece of Mithral Mayhem!"
"Having trouble impressing that Princess? Bugbear? Lesser Planar Demon? Well now that be a thing of the past with this Stunning Mithral Full Plate!"
Loren smacks his hand on a paper certifying the quality of the armor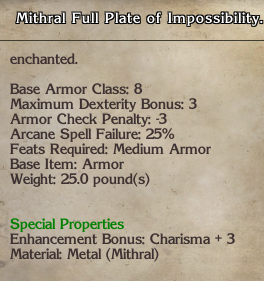 "Lighter than any other piece in your collection! It will be by far the most inspiring, what will YOU give for it?"
The Genasi sits back obviously awaiting for a proposal. A smaller sign behind his head indicates currency and barter is both acceptable.