The New Church of Tyr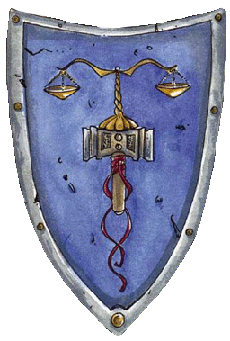 Reveal the truth, punish the guilty, right the wrong,
and be always true and just in your actions.
Based in the city of Baldur's Gate
~
---
~
Tyr and his followers are devoted to the cause of justice, to the righting of wrongs and the deliverance of just vengeance. This is not necessarily equality or fairness, as some make the maimed god out to represent, but rather the discovery of truth and the punishment of the guilty.
The Church of Tyr is a highly organized, formal priesthood that maintains internal rules and a system of fortified temples. At Tyrran temples, the faithful can find lodging, fresh mounts, healing, spell aid, weapons, gear, and holy advice. If a worshiper or priest knows that she or he has stinted in service to the Just One, confession and penance are also available.
Clergy of Tyr are sworn to uphold the law wherever they go, and to punish those who have acted wrongly under the law. They are to keep complete records of their own rulings, deeds, and decisions. Through these records, a priest's errors can be corrected, his or her grasp of the laws of all lands can grow and flourish, and lawbreakers can be identified by others. No known injustice done by a Tyrran priest must go unbalanced. Priests of Tyr should also always be vigilant in their observations and anticipations, seeking to see what forces and which beings intend or will cause injustices and threaten law and order in the future. They should then act to prevent such challenges in justice in coming to pass. In short: Abide by the laws, and let no others break them. Mete out punishment where lawbreaking occurs.
Priests of Tyr serve as judge, jury, and executioner in wilderness areas where there is no law but that of the sword. When doing so, their code cleaves fairly close to "an eye for an eye, a tooth for a tooth," but does adhere to common trade custom leavened by "the mercy of ignorance." This last means that if a being is truly ignorant of the proper behavior, minor transgressions can be forgiven once with a warning, an explanation of the proper law—and a record of the warning being written down in the priest's Book of Lawgiving for later distribution to other Tyrrans so that the particular being will not be forgiven a second time.
Level titles used by the clergy—and knights-in-service—in recent years, in order of ascending rank, are: Acolyte of Laws, Solemn Brother/Sister, Lawkeeper, Sword of Tyr, Hammer of Tyr, Vigilant Watcher, Just Captain, Avenger, Master Avenger, Abbot, High Lord Abbot, High Avenger, Knight Commander, Hammer Lord, Defender of Justice, and Keeper of the Balance. Maverick titles are few indeed, as this is a closely regulated priesthood.
In civilized areas, Tyrrans become legal experts and serve as the lawyers of Faerûn by dispensing advice and "speaking for" accused persons in trials.
---
Members of the New Church of Tyr of Baldur's Gate (by Rank and Title):
Abbot - Eldric Sulnar

(NPC

) "Eldric is very black and white when it comes to interpreting Tyr's justice, and the law, but is nonetheless very polite and helpful. He is rather tall but appears a little frail, probably due to the fact that he is an older gentleman."
Lawkeeper - Feldran Konstadt (PC), a paladin from Neverwinter. Courtier in the Ducal Court.
Sword of Tyr - Henryk the Damaran, of house Urde (PC), knight-errant to the Even Handed. "A man of eastern heritage, wtih a combined, persistent aura of determination and divine purpose. Physical appearance would tell of a human in their third decade—a youthful radiance still flourishes, but lines of wisdom are beginning to etch in around the eyes. He is often wearing a hood and cloak above featherweight plate mail, the cloak stitched with a design and symbol of a balancing scale seated upon the head of a warhammer." Currently on mission to the Hall of the Avenging Hammer in Telflamm.
Acolyte of Laws - Lemri

(NPC)

- A trapper, and something of a loner. He was not part of the militia of Tymount, but has decided to fight after the evacuation. Despite his quiet nature, he showed heroism during the demon attack on the Refugee Camp in the Farmlands of Baldur's Gate, and willfully joined the Tymount Ten.
Acolyte of Laws - Benla

(NPC)

- A former housewife who joined Tymount's militia only weeks before the fall of the place. She was barely trained at first but she has a redoubtable resolve that is flourishing into a quietly fervent faith in Tyr, which easily brought her into joining the Tymount Ten. Her husband and adult children have accepted her new course, even if her son (currently working in a warehouse in the docks) finds it hilarious and teases her constantly.
Acolyte of Laws - Peter

(NPC)

- A young, fresh faced militia man in his early 20's. He has always dreamed of knights and knighthood, leading him to train under and join the Tymount Ten, and while his exuberance sometimes gets the better of him he has been willing to learn from his mistakes. He is keen to take the fight to the Devils in the North, who he believes had a hand in the fall of his village Tymount.
---
~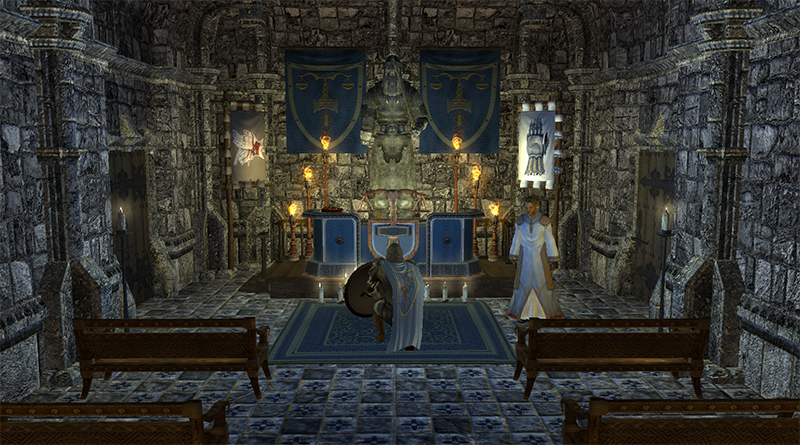 ~
---
~



OOC:

Tyr's temple in Baldur's Gate has existed for many years, and many Players both currently active and long retired from the Server, adding much Role-play to the Church and Faith of the Even-handed.

This "new" Church aims to continue that legacy, further that legacy, and bring together the many "knight-errants" that continue to act in faith on behalf of all Tyrrans.

Many who follow the faith of Tyr act on their own, but the Church provides a stable base for the religious services and fair judgements (and DM request!).

There is no active PC hierarchy as of yet, only those upholding the Dogma of the Church (as outlined above).