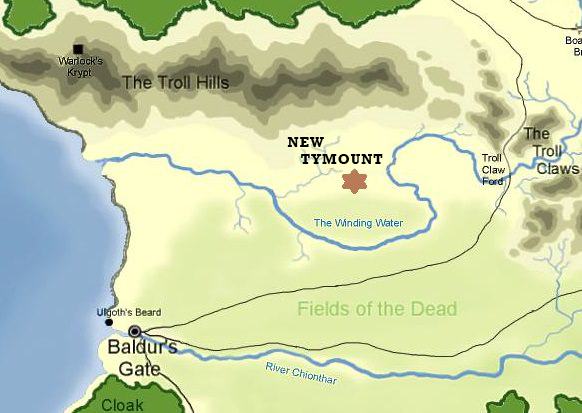 The village of Tymount, once located north of the Winding Water in the Fields of the Dead, came under attack by trolls being driven on by fiends. A group of intrepid adventurers, organized by the Order of the Radiant Heart, managed to ferry most the people of Tymount and the surrounding farmlands south, by magic, to Baldur's Gate, where they
camped as refugees
, for many months, until Alturiak of 1355 by Dale Reckoning, when a total destruction of Tymount was realized, and the Tymountians themselves accepting that for
"the foreseeable future, they will be settled in Baldur's Gate."
"The camp itself has been shrinking every day, and is now much smaller, increasingly hosting new arrivals who soon move on with the guidance of the clergy or of their own accord. That is not to say there is not need, but it is no longer the humanitarian crisis it once was."
Now, as the spring season sets into full swing upon the Sword Coast, "large numbers remain in collective shelters in Baldur's Gate." Its not yet clear how they will make their way...because as it stands, many housed, sheltered, working and living Tymountians with the Gate, still seek to return to their Homeland, yearning to be once again among the spirits of their ancestors, to retake their namesake, and see their community become whole once again....
//A spin-off/continuation campaign from
The Farmlands Refugee Camp